How to buy tickets online.
If you are reading this you probably want to buy tickets for an upcoming performance.  There are 2 ways of buying tickets.
#1 – Buying tickets at the door
#2 – Buying tickets online at www.jfac.info/tickets  Note: a 3% "convenience fee" is added to online ticket sales to cover the credit card charge.
In order to buy tickets online at home or work you will need a valid credit card or paypal account, a valid email address, and the ability to open and print a PDF file.  When you complete an online ticket purchase the ticket will be emailed to you as a PDF file.  You are then printing your own ticket.  If you have any problems with the process please email tickets@jfac.info or call David at 435-610-1836 (email is preferable if possble).  
So with that in mind here is how you purchase tickets online.  I'm including step by step instructions below then I'll have a link for some specific examples.  All previous discounts JFAC has offered are still valid for general admissions tickets ($3.00 senior / child tickets, $20.00 for a family up to 6).  See the examples on this page that shows you how to order the discount tickets.
First navigate to jfac.info/tickets.  Once ticket sales have begun you will see the following screen that lists all of the performance dates that you can purchase tickets for.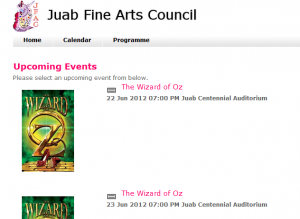 Once you choose a day you are presented with a choice of tickets using radio boxes or you can scroll down and choose a section on the map.  Please note that reserved seats are all $6.00 and are not eligible for the child/senior discount or the $20.00 family pass.  If you will be buying discount tickets please choose general admission.
As you can see above there are the reserved seating in the front and the folding chairs at the left, two wheelchair accessible sections with an isle space for a wheelchair, and general admission space everywhere else.
If you choose reserved seating you are presented with the following: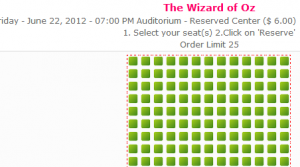 This is an imaginary top down view of the reserved seating in the center section.  The green spots are seats that are available.  Seats that are already ordered will be black with an X.  Click on the seats that you would like then click on reserved.  This will then take you to your cart shown below.
If you are choosing general admission you will be presented with the following:

To start choose the number of seats you are ordering then click reserve.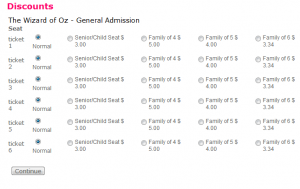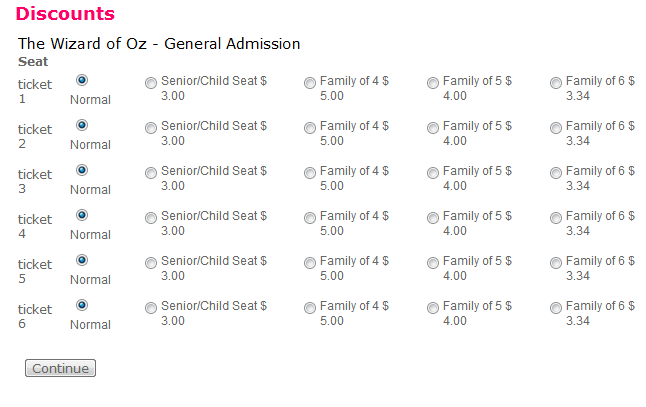 Next you are presented with a screen to select any applicable discounts.  Honesty is the best policy.  Also any discounts will be printed on the ticket so please be honest.  If you ordered 6 seats like above and 2 of them are Senior Citizen or Child seats you will choose the Senior/Child discount.   Ordering with a discount is covered on this page.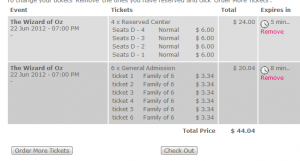 After you have made your choice you have the option to order more tickets or check out. You can order tickets for multiple night in one transaction by clicking the order more tickets and starting over.  Note: Sometimes it takes you to the same event. If you want to order tickets to another day just hit the home button then choose the day.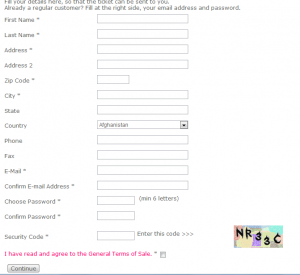 Now just fill out your information.  All of the * fields are required.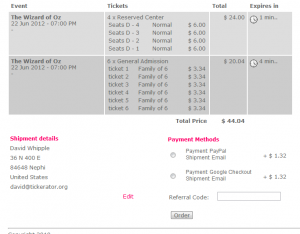 Finally you are at the final page where you select if you are paying through paypal or Google Checkout.  Here is a referral code box.  Please write down your order number. If there are any troubles this is how we can track your order.
And that's all.  Once your payment is complete you will receive an email with your tickets attached as a pdf file.  Please note that Google Checkout payments payments require manual intervention so those tickets may take several hours before being delivered.  Paypal orders should receive their tickets instantly.  Please email tickets@jfac.info if you need any assistance.