Just like in prior years you can receive a discount on general admission tickets.  The discounts available are $3.00 tickets for children 12 and under, $3.00 tickets for seniors citizens, and the family pass allowing you to get tickets for a family up to 6 for only $20.00.
To get the discount tickets you must choose general admission tickets (which is covered here) and then you will be presented with the discount screen like below. Note: Reserved tickets are $6.00. No Child/Senior or Family Discount can be used for reserved seating.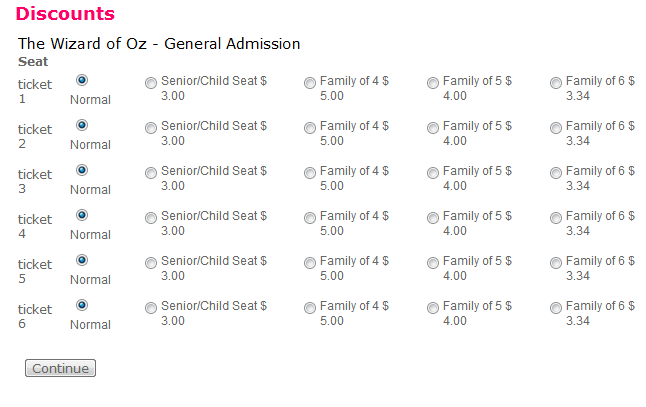 If you are ordering 6 tickets, 4 adults and 2 children you will click the Senior/Child seats on two of the tickets.  If you click a discount the program asks for a discount code.  The discount code for the Senior / Child tickets is "discount".
If you are ordering a family pack select the number of tickets you need (4, 5, or 6) then on ALL of the tickets select the discount you are getting – family of 4 for 4 tickets, etc.  Once again the program will ask for the discount code and the code you enter for the family pass is "family".  The example below is a family pack of 6 tickets.  You can see the discount code typed in.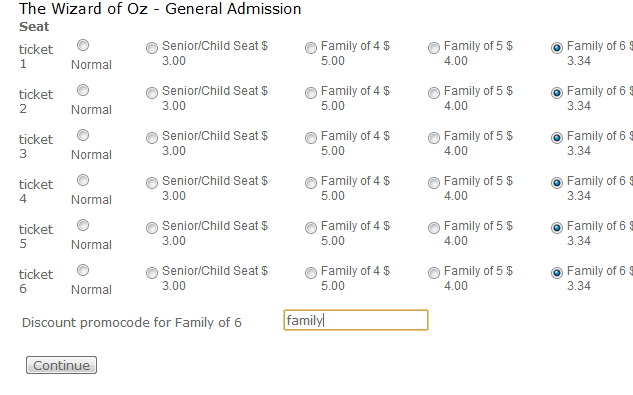 Note: there is a chance for dishonesty with the discounts.  Honesty is the best policy and JFAC is a charitable organization so please only choose discounts that are applicable.  They will be printed on the ticket and reviewed at the door.
If you have any questions on this process please email tickets@jfac.info (preferable) or call David at 435-610-1836.